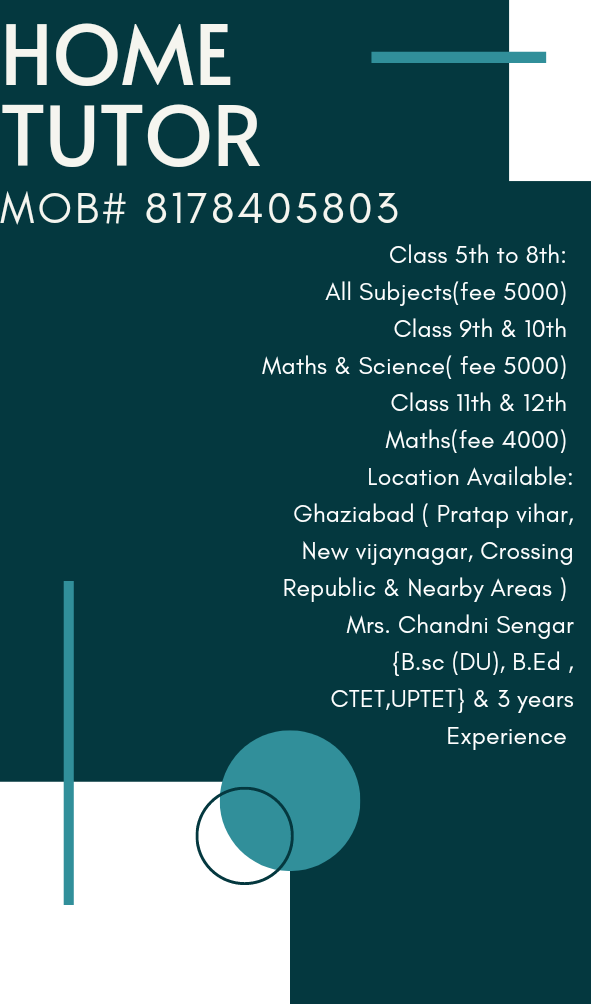 4 Years of Experience
Female, 27 Years

Member Since: Jan, 2022
Last Login: 25 Jun, 2022
Teaches online: Yes
Online Teaching Experience: 0 Yrs
Teaches at student's home: Yes
Teaches at tutors's place: Yes
Location: Ghaziabad, Uttar Pradesh, India
Can Travel (upto): 5 KM
Medium of Instruction: Hindi,English,
Teaches Board: CBSE,UP Board,

Prefered Location:
Mathematics Teacher
I have graduated from University of Delhi. I have completed B.Ed from CCS University. I have qualified CTET & UPTET. I have one year experience as a maths teacher upto 10th standard. I am married, almost 8 month completed of my marriage. I live in Ghaziabad with joint family. My husband is senior sales engineer at Noida sec- 63.
Teaches:
Experience:
Home tution , Independent , (Jan 2019 to Mar 2021)
S D public School , Teacher , (Sep 2020 to Mar 2021)
Education:
Govt of India , Ctet , (Dec 2019 to Dec 2019)
CCS University, B.Ed , (Aug 2017 to Nov 2019)
University of Delhi, B.Sc , (Aug 2011 to Nov 2015)
Fee details:
INR (4000 to 8000)/Month
Class 5th to 8th - 5000 Class 9th and 10th - 4000 per subject ( maths & science) Class 1st to 5th all subject - 6000
Available Time Slots: